Select an option:
| | | | |
| --- | --- | --- | --- |
| | | 23,5 x 31 cm | |
| | | 32 x 40,5 cm | |
Sizes: 23,5 cm (width) x 31 cm (length) x 11 cm (depth)
Without minimum quantity
Kraft paper bags available in brown and white.
Material: paper. Weight: 100.
Twisted paper handles.
Personalised on both sides.
ID: #17110
Reviews with images




---

Personalised Kraft paper bags
The perfect way to deliver a gift, a souvenir, or anything you can imagine! Our personalised Kraft paper bags, available in two colours (white and brown) and two sizes, are all you need if gift wrapping isn't your thing or if you want your company to walk the streets hand in hand with your customers, as they have comfortable twisted paper handles.
These bags are fully customisable: add a photo, drawing, text or phrase, and edit or add to the design. We have many different designs, meaning that you don't have to worry: choose the one you like the most and modify it to your liking, if you don't want to create it from scratch. Personalisation is done with high quality colour printing, so your bags will be bright and colourful.
Perfect for your special event
These bags are perfect for all kinds of events! Here are just a few ideas:
Baby Shower: these baby showers are becoming increasingly popular just before the baby is born, and the decorations and details are the life of the party! Imagine giving your guests a little something from the party in a personalised bag with the words "Martina's Baby Shower" on it, together with a beautiful design? An incredible souvenir!
Baptisms, communions and weddings: these are unique moments in life, an event where all your loved ones come together! Here it's the same concept as for baby showers: give the souvenir of the event inside a personalised paper bag with the words "I was at Guille's christening", "Marta's communion souvenir", or, if it's for a wedding, add your initials together with the date: "A&D, 02/06/2024, thank you for coming to our wedding". The bags will be perfect!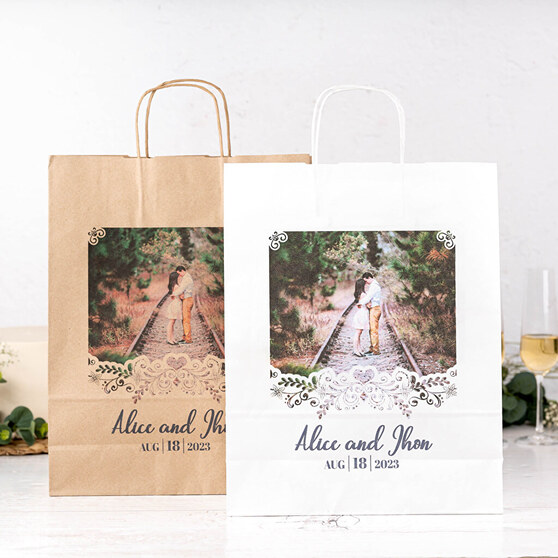 Of course, personalised paper bags are also ideal for giving your gift to the main characters: if you want them to remember who gave you that special gift, what better way to give it to them than in a personalised bag? Imagine how nice it would look if the bag said "You make a wonderful couple, I wish you all the best. From your friends Clara and Enrique". Simply ideal!
Birthdays, anniversaries, Valentine's Day: if you're not much of a gift-wrapper, don't worry: we've got your back! Why not create your own personalised "wrapping" and deliver your gift in a personalised cardboard bag? What's more, you'll be able to keep it forever, as you won't have to tear it open to discover the gift inside. Try choosing a design and adding a phrase like "Happy 18th, Esther, we love you very much! From your friends Ana and Celia", it will look great!
For businesses: Do you have a business, whether small or large, and want to create branding in an easy, quick and inexpensive way? Personalised Kraft paper bags are the best way to do it. Add your company logo, your name, your slogan, the postal or web address of the establishment, and make the magic happen! This is a sure-fire way to promote your business, because when you carry the bag in your hand, everyone else will know your brand. Whether you are a restaurant, a small clothing shop, a stall at a local fair or a large company, choose the model that suits you best!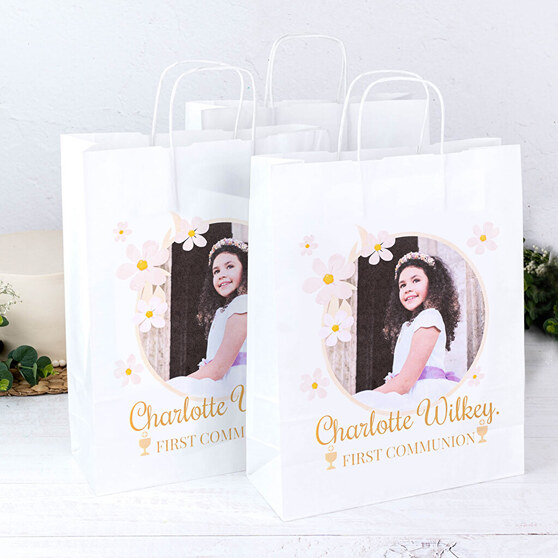 Discounts are available for large quantities, so if you order a lot of the same bag, the more you order, the more discount each bag will get. This is a great advantage for anyone looking for cheap personalised paper bags.
Taking care of the environment
Plastic is going out of fashion and its use is plummeting year after year. More and more people are switching to non-polluting bags, as they are good for the environment and do not generate waste. No more disposable plastic bags".