Personalised paper napkins
Sizes: 17 cm (width) x 17 cm (length)
Minimum order quantity: 10 units
Sold in packages of: 10 units
3-ply white napkins.
Grammage: 17 gr./m2 (each layer).
Total size (unfolded): 34x34 cm.
Suitable for food contact.
ID: #17142
Reviews with images





---

Create personalised paper napkins in vibrant colours
The best way to surprise your guests at any time: custom paper napkins, with 3 layers and with the photo, phrase, logo and design of your choice. An original way to surprise, to create a brand or to promote your business, at a very economical price.
You can create your own paper napkins from scratch with the design you have in mind, but if not, don't worry! We have an easy and intuitive online editor, which will make the customisation experience quick and simple: choose one of the pre-designed templates we offer you, and modify, add or discard what you want, making the design completely yours, it's sure to look amazing!
A product with plenty of uses
Custom cocktail napkins are specifically designed to be used at events and establishments where food is the main attraction. They are a different and economical option to add a personalised touch to any event or business, and make it even more original and unforgettable!
These decorative paper napkins can be printed with any design, logo, image or personalised message you want. If you are a business, you can try printing your logo or message on the napkins to create a brand presence in your establishment, while couples can print their names or a personalised image on the napkins to add a special touch to their wedding, for example.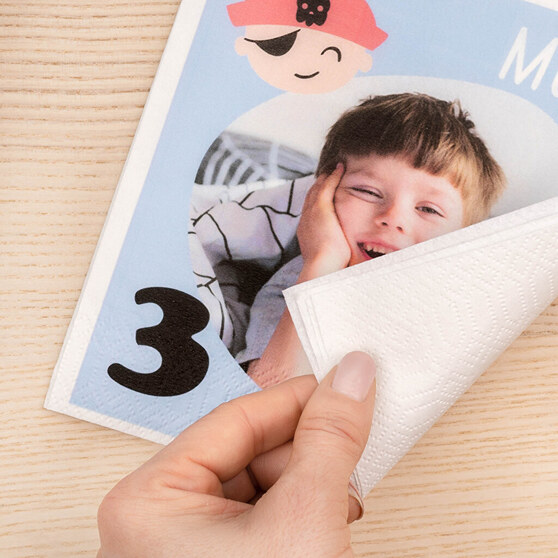 In addition, personalised paper napkins are a practical option for catering events, as they are disposable and easy to use. They are ideal because they can be produced in large quantities at a reasonable cost, making them affordable for any type of event - imagine your baby shower or your little one's birthday with personalised napkins for the occasion!
When to use personalised napkins?
Personalised paper napkins can have several uses, and here are some of the most common ones:
Brand promotion: they can be used as a marketing tool to promote brands or companies. Logos, brand messages or designs... everything can be printed on the napkins, which helps to increase brand visibility and create a good first impression on customers.
Special events: these personalised paper napkins are ideal for special events such as birthdays, graduations, themed parties, baby showers... as they can be specifically designed to complement the theme of the event and make it even more memorable.
Restaurants and bars: they can use personalised paper napkins to promote their business and create a branded experience for customers. They can also use personalised napkins to promote menu specials, events or as a way to stand out from the competition.
Home and office: Personalised paper napkins can also be used at home or in the office as a personalised touch for dinner parties, meetings or small events. They can also be a fun and personalised gift option.
For weddings: If you're getting married or if you're a wedding planner, then you might want to consider designing personlige wedding serviettes to make the wedding as unique as possible. It's a unique details which can also be a souvenir from the wedding.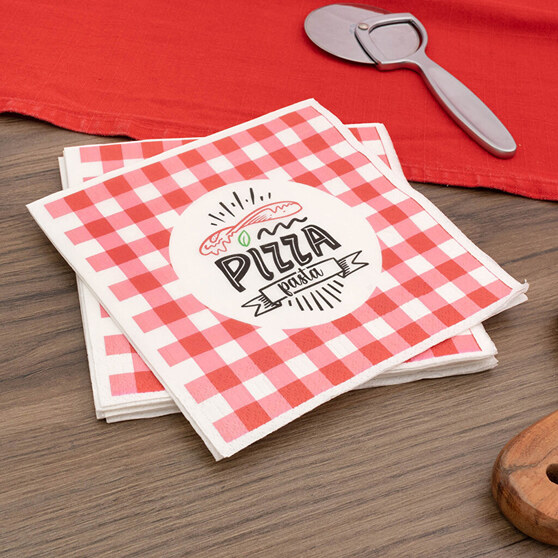 There's no doubt about it: personalised paper napkins are a versatile tool for promoting brands, decorating special events and creating branded experiences for customers. Plus, with quantity discounts, the more you order, the cheaper they cost!
As you can see, having personalised paper napkins for your events or business is a great way to add a special touch to the occasion, the icing on the cake!