Without minimum quantity
Includes buttons to hold the scrub cap in place.
Material: 92% polyester + 8% EA. Treatment: water repellent and antibacterial.
The material is breathable and antibacterial. Washable at 60º.
Complies with UNE 0065 standard in bacterial filtration efficiency.
Tested according to UNE-EN 14683:2019+AC:2019.
Personalised surgical scrub hats
Our nurse hats, surgical caps, hats for nurses, doctors, veterinarians and any other speciality, are suitable for both women and men. They are made in Spain, handmade and have the perfect pattern for maximum comfort and hair coverage. In addition, they include buttons on the side that make it easier to hold the cap in place in those cases where the professional has to wear it.
Surgical caps are the perfect complement to complete the wardrobe of a good health professional. There won't be anyone who won't notice your new personalised surgical cap, as it will be created by and for you, completely to your liking.
There are lots of designs and templates so you can personalise it to your liking and if you don't find one that you like to complete your outfit, just let your imagination run wild and create your ideal scrub cap.
They are machine washable, which makes them ideal because we need to maintain the most hygienic environment possible at all times.
The fabric they are made of has a water-repellent and antibacterial treatment, making them perfect for any health professional who wants to take care of his patients and himself at the same time. It meets the bacterial filtration efficiency criteria set out in UNE:0065 and has been tested according to UNE-EN 14683:2019+AC:2019. In addition to being of high quality and passing rigorous controls, our fabric for making surgical caps: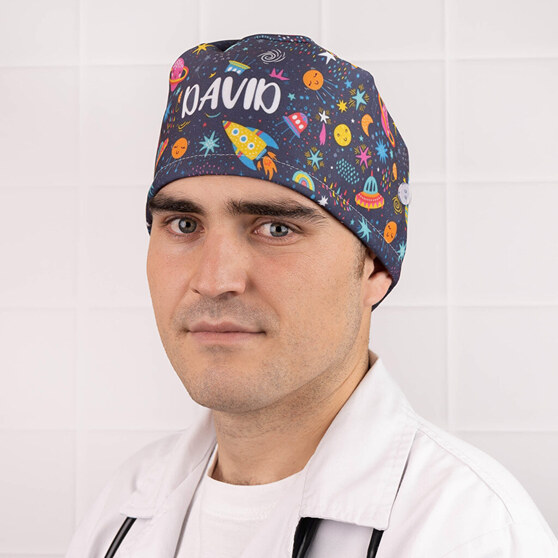 Is breathable.
Does not absorb liquids or odours.
Machine washable up to 60°.
Does not stick to the body.
Our designs are designed by and for you, to bring joy to your work every day. They will transmit joy to anyone who sees them, without losing an ounce of the confidence they are expected to bring to your day-to-day. You'll make a difference, as it's not the same to greet someone with a basic scrub cap as it is to greet them with a colourful, personalised one - you're sure to make the atmosphere relaxed.
Customise a nurse hat to your liking
In this section you will find a lot of pre-designed templates that you can modify in just a few clicks, choosing the background colour, adding a name, etc.
But if you don't find a design that suits you 100%, you have the possibility to customise it from scratch. You can make a corporate operating theatre cap with the logo of your clinic or centre. You can also choose a fun background that matches the activity you carry out, for example, if you are a podiatrist you can choose a background with little feet, or if you are a veterinarian a pattern with little footprints or even a design with little teeth, toothbrushes, etc. for dentists. Whichever model you choose, we are sure it will be perfect for you and you will surprise your patients. No two sanitary caps will ever be the same.
And the best of all is that with us you can order from one personalised unit, without having to order more caps if you are not going to need them.
What is a scrub cap for?
Any surgical cap serves to protect us and our patients, while maintaining maximum hygiene in the workplace. The surgical scrub caps have the function of acting as a barrier and thus prevent hair from coming into contact with viruses and bacteria.
The sanitary caps, as well as protecting patients against possible infections, also protect the healthcare professional, as all kinds of suspended particles are embedded in the hair, so it is ideal to cover our hair with these sanitary caps to avoid any type of contagion.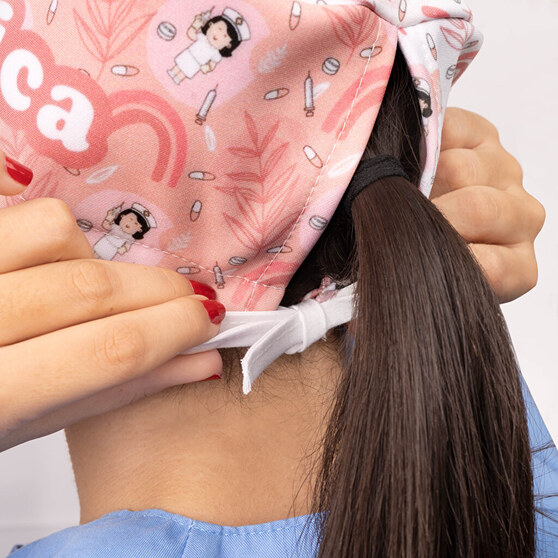 In surgical wards it is of vital importance that all the material is sterilised and that the environment is kept completely sterile. The personalised sanitary caps prevent viruses from adhering to our hair and, in this way, we will avoid contagions for both patients and professionals in the sector.
Features to take into account when choosing the perfect sanitary cap for you
It doesn't matter which branch of healthcare you work in, medicine, veterinary medicine, nursing, podiatry, dentistry... Your scrub cap should be something that is easy to put on and take off and comfortable for you to perform your role to the best of your ability. Here are some of the things to consider when choosing the right surgical scrub cap for you:
Whether you're a doctor, veterinarian, nurse, podiatrist, dentist... Your surgical scrub cap should be something that is easy to put on and take off and comfortable for you to perform your role to the best of your ability. Here are some of the things to consider when choosing the right surgical scrub cap for you:
If you are going to wear it for a few hours or all day, we must look for maximum comfort, in this case our surgical cap is super comfortable, you will not mind wearing it for a few hours or all day, as there will be times when you will wear it so comfortably that you will not remember having it on.
The type of patients you have to treat, influences the design, it is not the same for a surgeon or a health professional who deals with adults, where the person will choose a more discreet and sophisticated design than a professional who deals with children such as a paediatrician. In this case if the scrub cap has achildren's motif it will make the little ones relax a little and release that tension of the moment.
Your hat should be made of high quality, breathable and antibacterial fabric. It is an essential piece of clothing for safety in your work environment.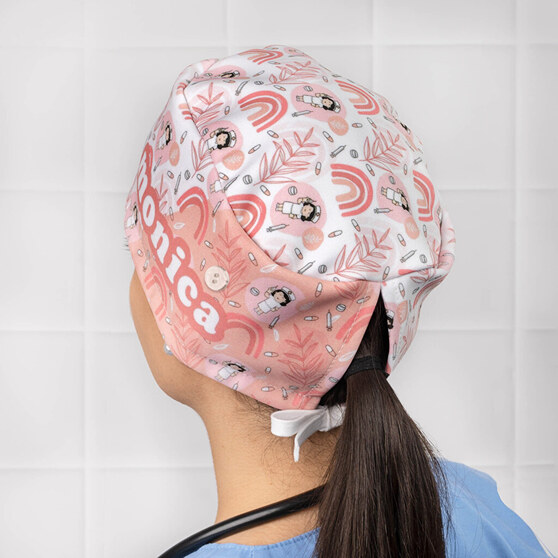 Now all you have to do is let your creativity run wild and customise the perfect surgical cap for you.