Personalised wooden key rack
Sizes: 29 cm (width) x 15 cm (length) x 0,4 cm (thickness)
Without minimum quantity
Materials: wooden support with 4 golden coloured metal knobs.
Rear hook included for easier wall mounting.

Personalised wooden key rack
We've all been there at some point in our lives when we've been about to leave our home and weren't able to find our keys. We have the perfect solution, so that you can have them well organised and located near your door. With our beautiful personalised wooden key racks you will never lose your keys at home again.
It's ideal as a gift or as a present for yourself. A touching and beautiful detail for couples who start living together in their new love nest, to surprise your partner on a special date, for newlyweds or simply to give a different touch to the entrance hall of your house by decorating it in a beautiful and very practical way. Hang the keys of the whole family on this ideal personalised wooden key rack.
It is an original key rack, practical, and it is made of high quality wood with gold coloured key hooks that will make your hallway look like never before.
This family key rack with a semicircular shape and four golden knobs is ideal to put the keys of the whole family or of all the doors you have with a lock and a key.
The Personalised wooden key rack will delight you. Not only because it's an ideal and beautiful personalised detail to decorate your home, but also because it will help you to keep the keys of the whole family organised. Say goodbye to the last minute rushing around looking for your keys.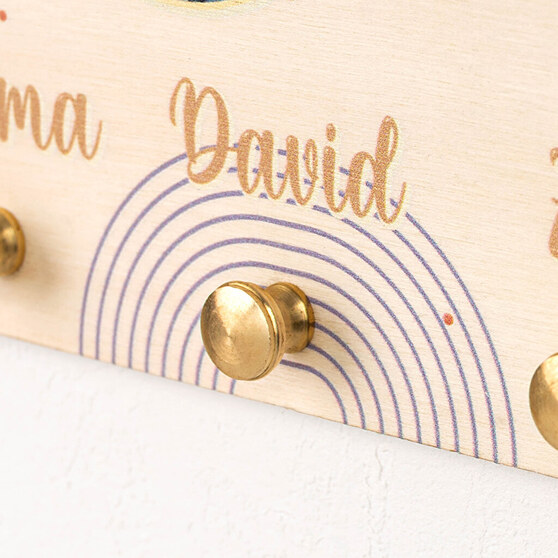 Customise the perfect key rack for your home
In this section you will find a lot of designs created by and for you to have it very easy when it comes to personalise the new key rack for your home or for that special person you want to give it to as a gift.
Designs that you can personalise with a beautiful and emotive phrase, or perhaps you'd like a fun one or one of the most popular ones with the family surnames or names of the couple who will be using them. Any option you can think of is valid to personalise these beautiful key racks.
And if you don't find a design that fits what you had in mind, don't worry, you can also create your own design from scratch, the designs you create have an even more special charm and the best thing about it is that you won't find two key hangers with the same design. Sounds perfect, doesn't it.
From now on your house keys will always be near you and in the perfect order. There is no excuse for keeping your keys stored in the most original and beautiful way possible.
An original gift for a person or couple who's moving in together
When we have to give a gift we always look for something original and that will surprise the person or persons to whom we are going to give it. A very classic moment when we usually give something to someone is to that person, family or partner, who we know is going to live alone or move to a new home. With this beautiful key rack you will leave anyone speechless.
You just have to let your imagination run wild and create the perfect one, no one knows their tastes better than you do and you're sure to create the perfect one. You can personalise it with a photo, a nice phrase, the names of the family members or even their surnames. Any option will be great and will delight everyone who sees it.