Personalised wooden support with hook
Sizes: 12ø cm (width) x 0,4 cm (thickness)
Without minimum quantity
Materials: wooden support with 1 metallic gold knob.
Includes rear hook for easy wall mounting.

Personalised wooden support with hook
At some point in your life you have surely wanted to decorate the smallest corners of your home. However, you probably didn't know how to do it. Now it's easier than ever before to personalise every single corner of your home. If you're looking for a perfect and personalised product, which is also practical, then it might get a bit complicated to personalise something. We have come to show you something that you will love.
This personalised wooden hook will be the perfect accessory you've been looking for. It's ideal for hanging small objects or children's clothes, such as your little one's backpack, it's even ideal for keeping their face mask safe.
This beautiful personalised wooden support with hook is personalised on one side, with the design of your choice. It has a diameter of 12 cm and is made of high quality wood. It has an individual hook perfect for hanging objects weighing less than 1 kg. It includes a sticker to attach to the back so you can hang it to any hook you have already installed on the wall.
Customise your wooden hook and decorate any corner quickly and easily
In this section you will find a lot of designs created by and for you to have it very easy when it comes to personalising the new personalised wooden support with hook for your home or for that special person you want to give it to, because with this detail you are sure to surprise that person you have in mind.
You can personalise them with a beautiful and touching phrase, or maybe you'd like a fun one, or also with a photo or image that looks good in the room where you want to put it. If you're thinking of putting it in the little ones' room, you'll find lots of designs for children that are sure to look great in their room and they'll love using it. Or if you want it to hang your keys at the entrance of your house, you could make a more sophisticated design that gives a special charm to your hallway. Any option you can think of is valid to personalise this beautiful hook with wooden support.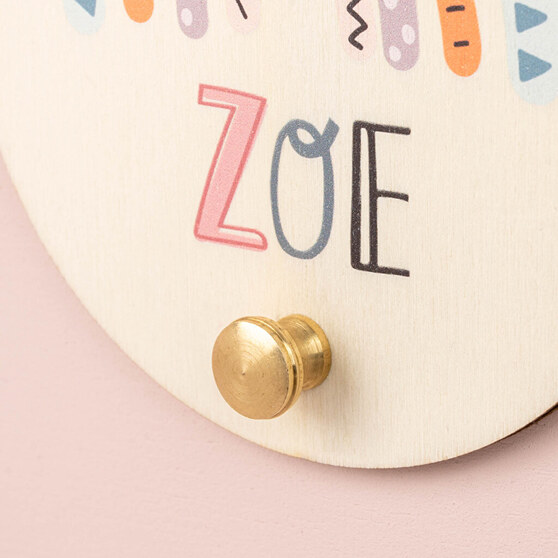 And if you don't find any design that fits what you had in mind, then don't worry, you can also create your design from scratch, the designs you create have a special added value and the best thing about this is that no two wooden hooks will be exactly the same, which will make it even more ideal.
It is perfect to help keep order of the little things we use in our day to day life, from a face mask (an accessory that has become part of our life for some time now), the keys, the apron in the kitchen, your little one's backpack, or even the cap you use on Sundays to go out in the mountains...
Create a personalised wooden support with hook for each member of the family
Who doesn't like things neat and tidy at home? As we know that many of you think like us, we bring you an idea that you will love. Now you can personalise a wooden hook for each member of the family, with these hooks you will be able to have everything a bit more organised, for example so that when you get home each member can hang their keys or mask on their hook. It will be impossible for them to get lost again.
And as it is a 100% customisable item, you can create the design according to each of you, if your little one likes superheroes, then with superheroes, if he likes horses, then you can upload an image of a horse that he likes, if you would like yours to have flowers and your name on it, then you just have to create the design you like the most and we will make sure it is perfect.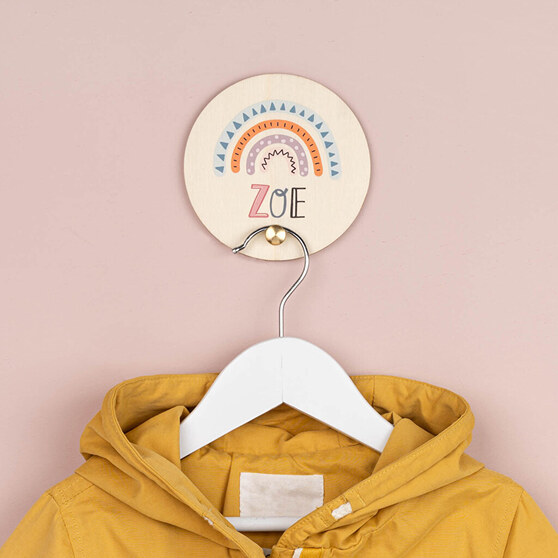 It is perfect as a gift for any occasion, as well as being a tailor-made personalised gift, you will get something exclusive and above all super practical for the person who'll be getting it as a gift. They'll be amazed and thrilled about the beautiful and personalised gift.
Keep everything well organised in your home with this amazing personalised wooden support with hook.
Tags of Wooden support with hook