Create your Christmas decorations with personalised decorations
Christmas is a time of traditions, sharing and celebrating with the family. Every little detail is significant and you must take care of them so that everything is perfect: the food, the gifts and, of course, the personalised Christmas decorations. We all look forward to decorating our home and enjoying the holidays surrounded by our loved ones in a warm and cosy atmosphere. And everything is better when it is designed by you, because you can make unique items that create that personal and cosy Christmas atmosphere.
By personalising and designing the products that will decorate our home, we are creating memories, the traditions that we establish at home at Christmas such as decoration, customs, company, menus, etc. are the essence of our Christmas festivities. And we don't know which of the things that are part of our Christmas today will become part of the memories of our children, grandchildren and other younger relatives, but, from Wanapix, we want to help you to make Christmas even more beautiful with the most special details.
In this section you will find the best personalised Christmas decorations, with which you can decorate your home during this special time. Articles of all kinds, from personalised Christmas baubles and other personalised decorations for the tree in different materials, personalised napkins that will decorate the table during the Christmas Eve dinner or Christmas lunch, personalised santa's sacks for Santa or HM the Three Wise Men to leave the presents for the little ones and not so little ones inside, a universe of personalised products for one of the most beautiful dates of the year.
In addition, you will not only find products with an infinite number of designs to personalise quickly and
easily with our online editor, but you can also give each item your own personal touch by creating it from scratch. With photos, images, texts, here the creator is you, we will help you to make the item you design unique and perfect for the occasion.
We all have memories of our Christmases from when we were little, a tree ornament that takes us back to that time, a film, a meal, or even a decorative figure that we used to use. Now you can create your own personalised products, which in the future will become precious memories that will weave the wings of the magic that we love so much at Christmas.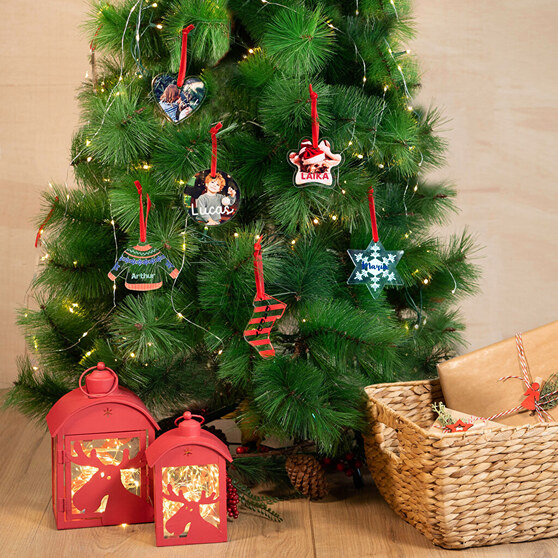 How to create the best Christmas atmosphere
At Wanapix you will find all kinds of items to decorate any room in your home. You can dress your home from the entrance, for example with a personalised Christmas doormat, to the bedrooms or the living room with personalised Christmas cushions with Christmas motifs, personalised Christmas blankets, super warm, to watch films alone or with company, or beautiful 3D Christmas lamps, in the shape of a Christmas tree or a house, which will give that warm and cosy touch that you are looking for.
All you have to do is let your imagination run wild, follow the decorative line of your home so that it is noticeable that it has your personal touch and we will make sure that everything is perfect. This Christmas your home will be full of Christmas spirit and will shine in a magical light. Can you wait for Christmas? We most certainly can't!
In case your family love Christmas and everything about it, then you're also able to create personalised xmas decorations for them. It could be anything from baulbles to acrylic decorations . The only thing that you'll need to do is to personalise the right amount of decorations, wrap them up in personalised gift paper and give it as a gift to the members of your family. They're going to have a massive smile on their faces when they see the personalised decorations or Christmas ornaments that you designes especially for them.